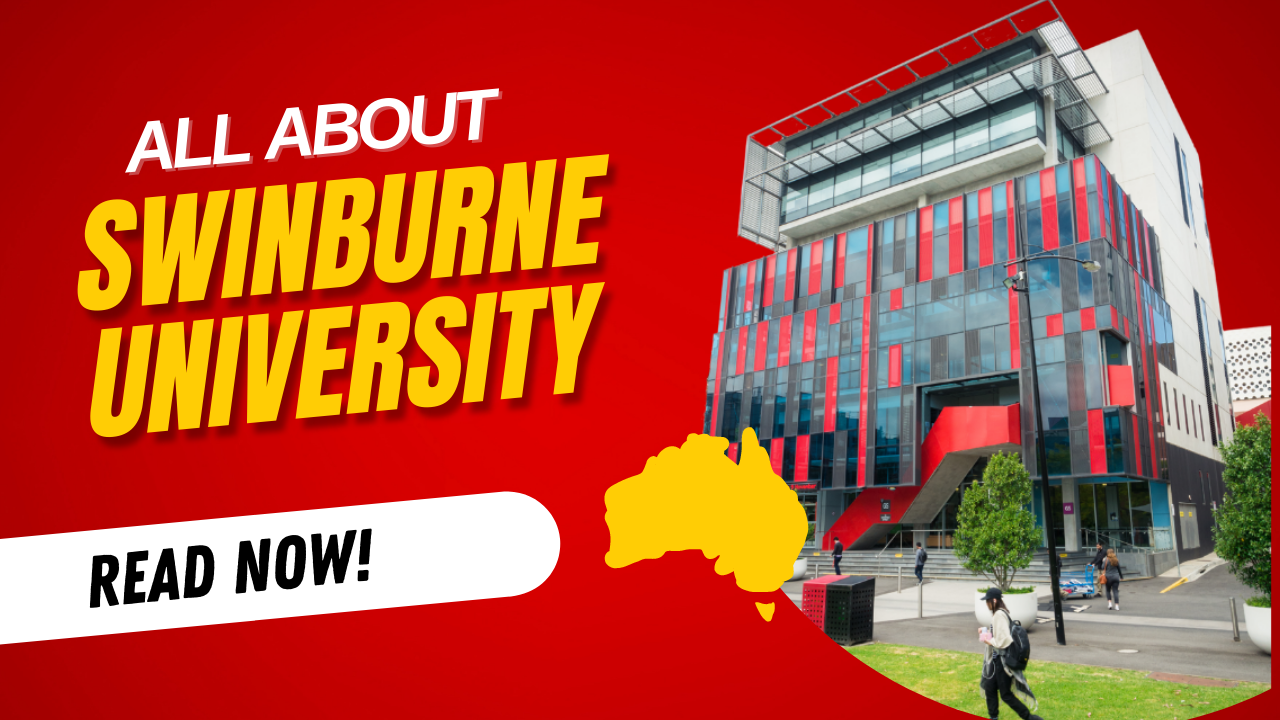 Top Reasons Why You Should Study In Swinburne University
Australia has opened up its borders to international students once again, and thus students are once again left with the almost impossible With over 112 years of experience producing skillful graduates, Swinburne University is one of the most popular destinations to study in Australia for international students. And in this blog, we explore why Swinburne is the perfect study destination for international students.
1. Proven Track Record Of Producing Industry Ready Graduates
For over 50 years, Swinburne has prioritised building strong relationships with industry in order to give their students the best chance of landing a job after graduation.
Guaranteed Work Integrated Learning (WIL) is a core part of every bachelor's course at Swinburne. Students can make use of the various internships or take part in industry linked projects to further boost their skills and experience. Swinburne also provides students with placement opportunities on campus.
The commitment to producing industry ready graduates is further exemplified by the fact that Swinburne has created Australia's first Adobe Creative Cloud Campus. At Swinburne, a student can access Adobe Creative Cloud Software anywhere, anytime, on any device for the entire duration of their course.
With over 20 different applications that can be used for a wide range of things such as web development, graphic designing, video editing, photography etc, this project gives students the ability to equip themselves with skills in demand in the market.
2. Accommodation And Accessibility
Swinburne University has 3 campuses in Melbourne City. And the main campus is situated just 10 minutes away from the city centre. Melbourne has no dearth of accommodation options and students can find the right accommodation, no matter what their needs are.
And of course, Swinburne does have on campus accommodation. In fact, students enrolling in Swinburne can choose to stay in college rooms, shared apartments or studio apartments, with each of the three options having its own benefits. For example, living in a college room gives you unparalleled access to classes and other amenities. While on the other hand, a studio apartment gives you the privacy you need for living the independent life of your dreams.
Swinburne University also has a campus in Sarawak, Malaysia. So, you do not have to travel all the way to Melbourne to get the best of Australian education. And not to forget the different study online programs on offer which enable students to get world class education offered by Swinburne from the comfort of their homes.
3. High Quality Research And Teaching
Swinburne has consistently ranked among the top 3% of universities in the world. And that is a feat that's not possible without having excellent teachers at the helm of things. Swinburne provides students with the opportunity to learn from staff who aren't just leading academics in their field, but who also excel in imparting their knowledge to their students through teaching.
Swinburne is also home to an excellent research ecosystem which is supported by a number of programs such as
Factory Of The Future
Cloud Innovation Centre
Swinburne Innovation Precinct
Design Factory, Melbourne
Advanced Manufacturing Industry 4.0 Hub
Digital Research Innovation Capability Program
For example, the Factory Of The Future, which is located in the ground floor of Swinburne 100 million dollar Advanced Manufacturing And Design Centre was set up with the goal of partnering with industries to create advanced manufacturing processes for the future.
Likewise, each of these different programs are at the forefront of innovation, enabling students to shape the future, only hindered by their own imagination.
4. Scholarships
Swinburne University provides students with the opportunity to avail a number of different scholarships based on certain eligibility criteria.
International Students who apply to Swinburne are directly considered for scholarships that match their academic profile without having to apply separately.
The following are the different scholarships available for international students in Swinburne
Foundation Year And/Or UniLink Diploma Scholarship - This is available for students who apply for a package including Foundation Year and/or an UniLink diploma along with their Bachelor's degree. It's worth between 2500-5000 AUD.
Undergraduate Scholarships - It is available for students who apply for an undergraduate degree is worth up to AUD 35000
Postgraduate Scholarships - It's worth up to 21,000 AUD and is applicable for students who apply for a Master's By Coursework program.
Alumni Direct Scholarship - It is applicable for students who apply for an undergraduate or postgraduate degree while already holding an undergraduate or postgraduate degree from Swinburne and is worth up to 25% of the course fee.
5. Life At Swinburne
College life is not just about academics. In fact, for most, the most memorable part of their college life would be the moments that they spent among friends and other loved ones. And don't you worry, Swinburne has you covered there.
Melbourne has consistently been ranked as one of the top cities to live in the world. It is a melting pot of different cultures with people from all over the world making Melbourne their home. So, it doesn't matter where you are from, you will feel right at home in Melbourne.
Be it cruising down the Yarra river at night, or cafe hopping along the riverfront, or going to a game of Australian Rules Football at the iconic MCG, Melbourne has no dearth of attractions.
And if you want to explore things outside of Melbourne, don't worry
The country is one of the most unique places in the world. The sheer variety of landscapes, flora and fauna on offer would take a lifetime to fully explore and experience.
6. Internships And Placements
As mentioned before, Swinburne prioritizes giving students the best chance to excel in their chosen field. And for that, Swinburne has developed multiple different tie ups with industries across Australia.
Internships offered by Swinburne do not extend the duration of your course and are covered on your visa. The only criteria to be met to avail an internship is choosing one elective as a part of your course. Internships helps you to gain real Australian Work Experience while studying and will make your resume look even better.
The following are some of the advantages of joining an internship offered by Swinburne
A chance to work on projects with real world impact
Experience everyday work in highly reputed companies
Opportunity to learn directly from industry experts to further boost your skills
A chance to build a network of industry contacts.
Swinburne University is a great option for international students looking to study in Australia. By their admission, students are at the center of everything they do, and thus it's no surprise that they have been able to consistently rank among the top 3 universities in Victoria. If you choose to join Swinburne, you can rest assured that your future is in safe hands.
So, have you made up your mind yet? What are you waiting for? Do not miss out on this opportunity to enroll in one of the best institutions in the world. For more information, you can contact our counsellors at AECC Global. And we will be more than happy to help you on your journey towards becoming a student at Swinburne.