USA Student Visa
Learn everything you need to know about USA
Student Visa and get end to end expert guidance from us.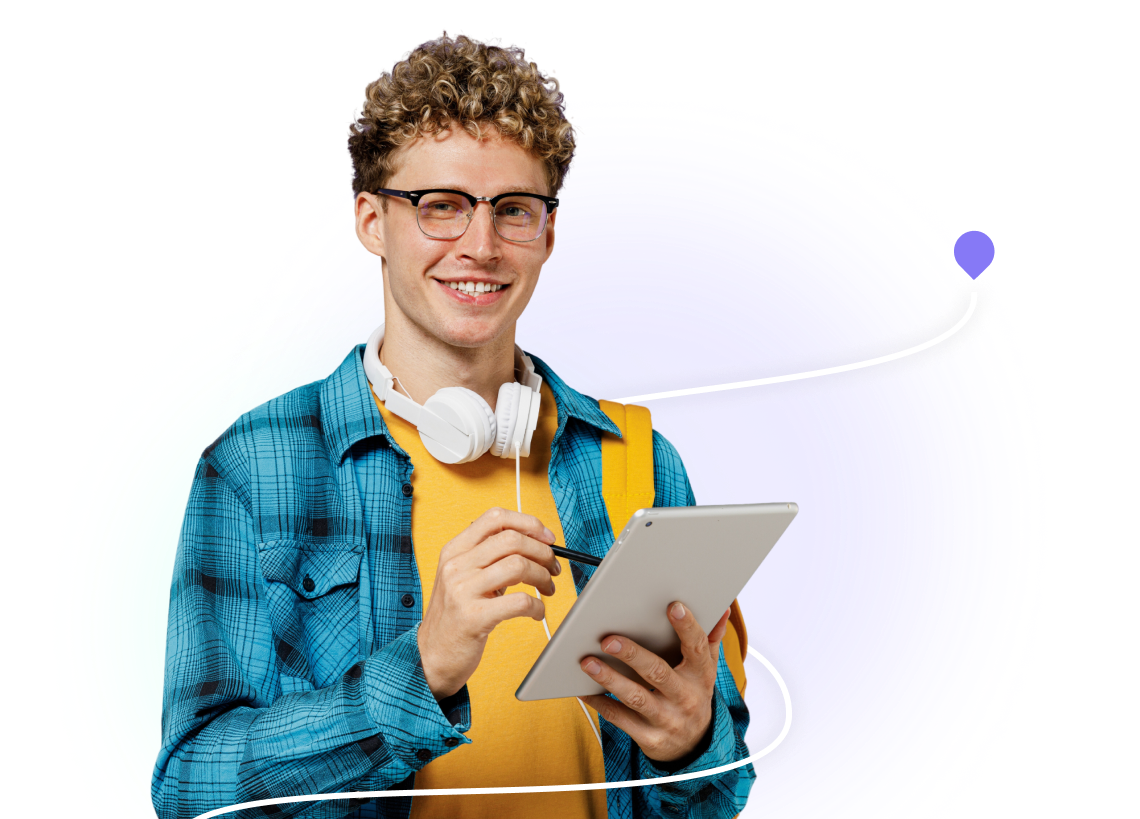 USA Student Visa
Learn everything you need to know about USA Student Visa and get end to end expert guidance from us.
USA Student Visa for International Students
Welcome to our comprehensive guide on obtaining a student visa for studying in the USA! If you are an international student with dreams of pursuing higher education in the USA, you have come to the right place. Navigating the intricacies of US immigration regulations is potentially daunting, but fear not; we are here to simplify the process for you. Are you excited about the prospect of joining a prestigious American university or college to further your academic journey? To make this dream a reality, you usually need to secure a student visa. Whether you are aiming for a degree, a certificate, or an English language program, understanding the basics of student visas in the USA is crucial.
Our guide is designed to answer all your burning questions about student visas. Who needs a student visa in the USA? How do you apply for one? What are the USA student visa requirements? We will guide you through the steps, from choosing the right educational institution to acing your visa interview. Our aim is to provide you with a clear roadmap so you can confidently embark on your study adventure in the United States.
Types of the USA Student Visa
A tourist visa exclusively permits engaging in a US recreational course, while a student visa is essential for pursuing certificates or degrees in US courses. Higher education pursuits within the USA also necessitate a student visa. The student visa landscape encompasses three primary categories: F, M, and J visas. Even if your academic commitments involve a specific period at a US institution, like the final days of a distance learning program, acquiring an M or F visa remains obligatory. The appropriate visa type hinges on your specific interests, preferences, and requirements.
| | |
| --- | --- |
| Type of Student Visa | Description |
| Study Permit | This is the primary student visa for full-time programs at designated learning institutions in Canada. It's required for courses longer than 6 months. |
| Student Direct Stream | Designed for students from select countries, this stream offers expedited processing for study permits. |
| Exchange Student Permit | For students participating in an exchange program with a Canadian educational institution. |
| Co-op Work Permit | If your course includes a co-op or internship, you may be eligible for this permit. |
| Post-Graduation Work Permit | This allows graduates to work in Canada after completing their studies. |
How Much Does a USA Student Visa Cost from Malaysia?
Before applying for a Canada student visa, it's essential to be aware of the visa fees associated with each type. Here's an overview of the average fees:
| | |
| --- | --- |
| Type of Visas | Application Fee (in USD) |
| F-1 | $185 |
| M-1 | $185 |
| J-1 | $185 |
Securing a student visa is not only a necessary step but also a significant financial commitment. Beyond tuition fees and living expenses, understanding the visa costs ensures that you're well-prepared for the entire educational experience. Whether you're considering undergraduate or graduate studies, the table ahead will shed light on the financial aspects that need your attention.
USA Student Visa Requirements
If you are considering applying for a student visa in the USA, there are several crucial conditions to bear in mind. Your application to the immigration department will only go through if you satisfy the specific USA student visa requirements, which encompass the following key points:
Enrolment in an eligible academic program that necessitates maintaining the status of a full-time student

Acceptance from a SEVP-approved school in the USA

Completed DS-160 online application form

Payment of the SEVIS fee

Passport-size photographs

Transcripts and diplomas from previous institutions

Proof of funds to demonstrate financial ability to cover your educational expenses and living costs in the nation

Proficiency in English is a prerequisite for an F-1 visa, while an M-1 visa requires that your course leads to English proficiency.

Have a residence in your home country to which you can return if necessary after completing your education in the USA

Approved I-20 form from your US school

Payment of both a visa application fee and a visa issuance fee

An interview with a consular officer
English Proficiency Tests for a USA Student Visa
Proficiency in English is a pivotal requirement for obtaining a
student visa in the USA
. An F-1 visa mandates that applicants have a strong command of English, ensuring their ability to excel in an English-speaking academic environment. On the other hand, an M-1 visa necessitates that the chosen course contribute to the development of language proficiency. The US immigration department accepts recognised English proficiency tests such as TOEFL, IELTS, and others as evidenceof language competence for both F and M visas. Demonstrating your language skills not only enhances your chances of securing a visa but also equips you for success in your chosen educational journey.

| | |
| --- | --- |
| Level of study | English skill level |
| Undergraduate | IELTS 6.0 or TOEFL 80 |
| Postgraduate | IELTS 6.5 or TOEFL 90 |
| PhD | IELTS 7.0 or TOEFL 100 |
Which Documents are Required for a USA Student Visa?
Preparation is paramount when planning to study in the USA. Gather the following documents:
Application form

A valid passport

Acceptance letter from a SEVP-approved US school

SEVIS payment receipt

DS-160 application confirmation

Passport photos

Proof of financial ability

Evidence of your ties to Malaysia

Visa appointment confirmation
How to Apply for Your Student Visa Online?
Applying for a student visa in the USA simplifies the process. Begin by filling out the DS-160 form on the Consular Electronic Application Center website. Once you complete the application, ensure to print out the DS-160 confirmation page. After this, pay the visa application fee and schedule an appointment with a US consulate or embassy in Malaysia. You can also seek the help of an AECC counsellor to streamline your application.
How to Apply for a Student Visa for the USA ?
The process of applying for a US student visa involves multiple steps, with the sequence and execution depending on your embassy or consulate's guidelines. Here is a step-by-step guide to the process:
Regardless of the order, your initial focus should be on meeting all the requirements for a

USA student visa

. Typically, this journey commences by enrolling yourself in a SEVP-approved US school. Upon receiving Form I-20, you secure admission. While you can technically explore American universities on a visitor visa, pursuing F-1 status pays due to its time-consuming nature. It's prudent to initiate your

US student visa

application after obtaining your university acceptance letter.

Subsequently, fulfilling obligations such as paying the SEVIS fee and completing Form DS-160 becomes essential. Equally vital is understanding the processing time specific to your Philippine location. Scheduling a student visa interview at the US Consulate or Embassy in your nation of residence is crucial; though alternative options exist, the processing duration might differ.

Accompanying the application with an early payment of the relevant fee is recommended. At some point, you'll participate in an interview with a US consular officer. This brief interaction usually entails discussing your study motivations, financial capacity, and post-education plans.

Post-interview, booking flight tickets only after securing your

US student visa

is prudent.
If you require guidance throughout these stages, our AECC counsellors are available to provide expertise. With a wealth of experience in assisting international students to overcome immigration challenges, they can help you realise your study-abroad aspirations.
Do you find it tiring to arrange all these documents on your own? If you contact AECC, our experts can ease the entire process for you!
Processing Time for a USA Student Visa
Securing a student visa for the USA requires patience. The processing time for the visa is a crucial aspect to consider when planning your journey to study in the United States. While the standard processing time typically hovers around a month from the moment of application, it's important to recognise that various factors can influence this timeframe.
In some cases, the processing period might extend beyond the standard duration. This can be especially true when additional information or documentation is required from the applicant. Instances where a more in-depth review is necessary due to complexities in the applicant's background or the specifics of the intended course of study might lead to a longer processing time.
Furthermore, external factors such as the volume of visa applications being received by the consulate or embassy can also impact the overall processing time. During peak application periods, processing times might be longer due to higher demand. With this in mind, let us check out the approximate processing times with a table:


| | | | |
| --- | --- | --- | --- |
| Stream | 50% of Applications Finalised Within | 75% of Applications Finalised Within | 90% of Applications Finalised Within |
| F-1 | 3 weeks | 5 weeks | 7 weeks |
| M-1 | 4 weeks | 6 weeks | 8 weeks |
| J-1 | 3.5 weeks | 5.5 weeks | 8 weeks |
How to Write SOP for a USA Student Visa?
Crafting a compelling Statement of Purpose (SOP) is a pivotal step in your journey to secure a US student visa. This document serves as your opportunity to showcase your intentions, aspirations, and suitability for pursuing education in the United States. Here is how to write an effective SOP for a USA student visa:
Introduce yourself and your academic background: Take the opportunity to introduce yourself to the visa officer. Provide a succinct overview of your background, including your name, nationality, and a brief mention of your educational journey thus far. Offer insight into your academic achievements and any notable accolades that showcase your commitment to education. 

Elaborate on your career goals and why you chose the USA for your studies: Delve into your aspirations and career goals in detail. Explain why you want to

study in the USA

for higher education. This is the chance to demonstrate your thorough research on US institutions and programs, showcasing that your decision to study in the country is well-informed and in line with your future ambitions.

Highlight your previous academic achievements: Expand on your academic achievements by providing specific examples of projects, research, or coursework that exemplify your dedication and capabilities. Use this space to illustrate how your past academic endeavours have prepared you for the challenges of advanced studies in the USA.

Discuss your future plans post-study: Outline your post-study plans in detail. Are you aiming to contribute to your home country's development through your acquired knowledge? Do you have plans for further academic pursuits or specific career paths? Express how your course in the USA fits into your long-term vision and how you intend to leverage it for a meaningful impact in your field.

Conclude by stating your commitment to abide by visa rules: Reaffirm your dedication to abiding by the visa regulations and laws of the United States. Emphasise your respect for the privilege of

studying in the USA

and your intention to be a responsible and law-abiding student during your stay. Demonstrating your awareness of and commitment to adhering to visa rules leaves a positive impression on the visa officer, highlighting your conscientious approach to this opportunity.
USA Student Visa Rejection
Experiencing a USA student visa rejection can indeed be a disheartening setback, but understanding the common reasons behind such outcomes can help you navigate this challenging situation. One primary cause is often the lack of sufficient financial proof. US authorities want to ensure that you have the means to cover your educational and living expenses while studying there. Therefore, it is crucial to meticulously compile and present all necessary financial documentation.
Another reason for rejection could be the inability to establish strong ties to your home country, such as Malaysia. Visa officers aim to ensure that students intend to return to their home country upon completing their studies in the USA. Articulating your connections, whether familial, professional, or other commitments, can strengthen your case and allay concerns about potential overstays.
Furthermore, submitting an incomplete application is another pitfall to avoid. Double-check that all required forms are accurately filled out, and all supporting documents are included. An incomplete application can signal a lack of thoroughness and commitment, potentially leading to a negative outcome.
To minimise the risk of rejection, make sure you meticulously meet all USA student visa requirements. Pay attention to every detail, from financial documents to ties with your home country, to present a comprehensive and compelling case for your visa approval.
Renewal of the USA Student Visa
As your time in the USA draws to a close, but your academic pursuits continue, the process of renewing your student visa becomes relevant. The renewal process ensures that you can remain in the USA legally to complete your studies without any hiccups. When contemplating this step, reaching out to your school's international student office is a prudent move. These experienced professionals specialise in guiding students through the intricacies of visa renewal, offering valuable insights and assistance.
The international student office will be your steadfast companion in understanding the renewal process. They can help you gather the necessary documents, complete the required forms, and ensure that you are in compliance with all regulations. Their expertise can be instrumental in making the renewal process as smooth and stress-free as possible.
Staying on the right side of the law during your educational journey in the USA is of utmost importance. By collaborating with your school's international student office and following their guidance, you can confidently navigate the renewal process, extending your stay in the USA to continue your pursuit of knowledge and growth.
How Can AECC Help in Your Visa Application?
At AECC, we are here to simplify your journey to study in the USA. Our experts understand the USA student visa process intricacies. From an SOP for a USA student visa to a consular interview, we have got your back. Trust AECC for a hassle-free application experience.
Frequently asked questions

How can I Get a Student Visa from the USA?
To get a student visa from the USA, you need to apply through your American embassy or consulate, following their specific process. You may also seek an AECC counsellor's help to simplify this process.
How Many Years Visa Does the USA Give for Students?
How Much is a Student Visa in the USA?
Is a Student Visa for the USA Easy to Get?
Is IELTS Required for a US Visa?