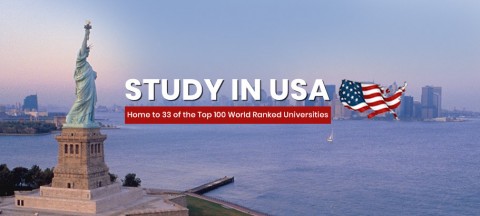 Are you planning to study abroad? But confused if you should choose USA as your study abroad destination? Explore Top 6 reasons why you should study in the United States.
Choosing US as study destination is a lifetime experience in student's life. With largest number of international students in the world, USA is globally recognized for its quality education, unique curriculum, multicultural society, and abundant work opportunities post studies. 41% of the world's Top 100 universities are in United States.

Here are top reasons why studying in the US is most popular study destination among the Indian students:



Academic Excellence: Universities and institutions in the US consistently rank in the world university ranking because of its high academic standards and excellent research-oriented education system. Times Higher Education Ranking has ranked 7 US universities in its Top 10 list of universities.
Flexible Education System: Universities and colleges in the US offer diverse range of courses and students at the undergraduate level have the liberty to pursue different courses and declare their major at the end of second year.
Support System for International Students: US universities conduct regular orientation programs, workshops and trainings for the students and have international student office to assist them with various career or academic queries and cultural awareness. Universities also have health and support services including campus support services, student associations and support for students with disabilities.
Cultural Diversity: US is a country with variety of cultures, races, cuisines, customs and festivals. Students are exposed to an international environment wherein they can build strong personality traits and skills valuable in the international market and also highly regarded by employers.
Lively and Vibrant Campus Life: The campus life in the US is full of life wherein you'll find yourself in the midst of new cultural experiences and the American way of life. International students are some of the most valued teachers and researchers in U.S. universities because they bring new skills and ideas to the classroom and library or laboratory. At the graduate level, students have the opportunity to work U.S. degrees are recognized throughout the world for their excellence.
Excellent Work Opportunities: Students work directly with some of the finest minds in their field of study, with the chance to become involved with exclusive research and educational opportunities. They have the opportunity to avail 3 years optional practical training extension after completing the degree for STEM courses.
Scholarships in USA
Worried about the tuition fees? To ease out the expenses, US universities offers various scholarships to deserving students based on good academic score, extracurricular activities, and volunteering.

Here's a list of popular scholarships offered:
Foreign Fulbright Student Program
Narotam Sekhsaria Foundation
Humphrey Fellowship Program
Microsoft Scholarships
Inlaks Scholarships
Rotary Foundation Ambassadorial Scholarship
In addition to these, most universities and colleges also have their own list of scholarships for Indian students.
Still confused which university to choose in USA and how to apply for scholarships? Get in touch with our expert counsellors to get detailed information about university and course selection, visa documentation, application processing and guidance on finances. Clear all your study abroad queries. Contact Now
*Conditions apply.