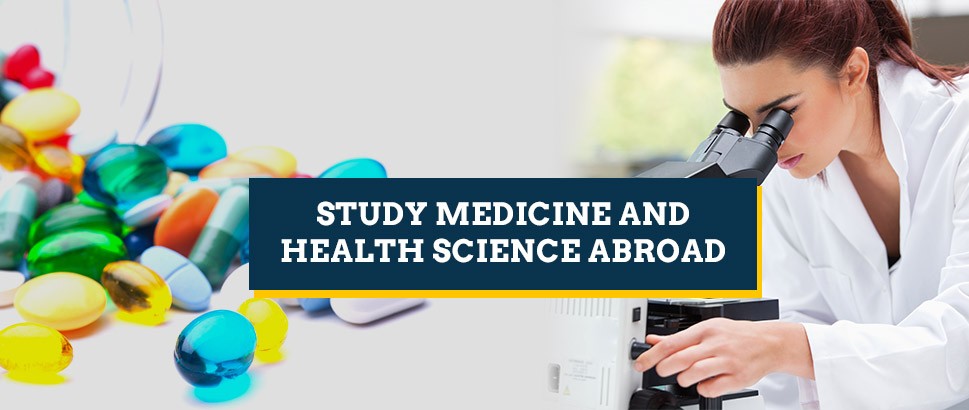 Are you passionate about learning medical healthcare and public wellness? Do you wish to earn lucrative amount in your career?
If your answer is yes, then an international career in medicine and health science is certainly a right choice for you.
Medicine has always been a lucrative and noble profession and the whole medicine industry has been undergoing massive changes worldwide, in terms of ideas exchanged and services delivered. Hence, there is an increasing demand for good-quality health and medicine professionals globally, more than ever.

Studying medical courses abroad helps you in gaining a global perspective of how technology is used in the medical science and gives you a deeper understanding of latest international medical practices, health care platforms and cultural influences on health and wellness.
Career Options in Medicine and Health Science
Indulging in a medical course of your choice in an international destination will not only provide you with an opportunity to develop professional relationships with famous health practitioners but you can also research a topic under the guidance of professionals that helps in building the future of healthcare. International students are highly sought after by top employers because it shows them that you're highly committed, adaptable and able to work with others in unfamiliar settings.

Top international institutions and universities having global recognition are committed towards turning discoveries into cures. Students wishing to pursue a course in medicine and health science can choose from a diverse range of study options and learn specialist skills needed for their chosen area of expertise.

Few popular courses for medical students include specializations in Alternative medicine, Anaesthesia, Anatomy, Biochemistry, Biological Science, Cardiology, Dermatology, Disability Studies, Embryology, General medicine, Gynaecology, Health and International Development, Heath Administration, Human Biology, Kinesiology, Neurology, Nursing, Nutrition and Dietetics, Obstetrics, Occupational Therapy, Ophthalmology, Orthodontics, Orthopaedics, Pathology, Physical Education, Physical Science, Physiotherapy, Public Health, Radiology, Radiotherapy, Speech Pathology, Urology and Veterinary science.

Career outcomes of medical and health science professionals include Bioinformaticians, Biotechnology specialists, clinical research associates, clinical trial managers, geneticists, general physicians, health data scientists, health economics, health data scientists, health economics, health promotion, laboratory technicians, medical chemists, microbiologists, nanotechnologists, pharmaceutical developers and managers, research scientists and surgeons.
Popular Study Destinations for Medical Professionals
The medical industry is the topmost field that attract big pay cheques. There are various popular international destinations to study medicine and healthcare like Australia, New Zealand, UK, USA and Canada. They are well known for paying highest salaries to the medical professionals and offers world class facilities and vast range of courses and specialisations to the students.

Surgeons in New Zealand can earn upto $138,261 per annum while General Physicians in UK can earn an average of $85,250 per year and specialists can earn around $174,068 per year. United States is another country which has many pioneering procedures, surgeries and medical research, making it a highly attractive destination for medical professionals. Family physicians generally attract a yearly income of around $208,560 while specialists earn even far more.
Are you interested in choosing a medical degree abroad?
What kind of medical course are you aiming at? Are you still confused and need more information?

Being one of the leading international education consultant, we at AECC Global help passionate students like you in fulfilling their study abroad dreams in popular destinations like Australia, Canada, Ireland, New Zealand, UK and UK. We'll help you in choosing the right medical course and university according to your areas of interest and take care of the entire application and visa process.

For more information on career prospects of Medicine and Health Science and overseas university application procedure, get in touch with our experienced consultant for an individual career counselling session. Contact Now
*Conditions apply