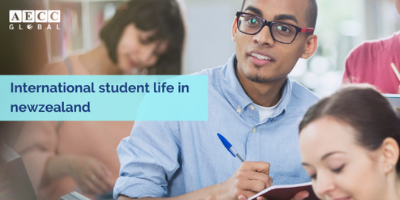 Representing world-class education and quality courses, New Zealand's education system accentuates critical thinking and works towards enhanced learning.
It's equally well known for its quality of life and provides international students with newer opportunities to build their future throughout their educational journey.
Sounds like a place you would love to study at? Well then it's time you considered pursuing an education in New Zealand and begin your adventure!
Life in New Zealand has its own distinctive flavour. Every institution hosting international students has dedicated staff to ensure your life in New Zealand is successful and stress-free.
Striking a perfect balance between contemporary education and international student life, New Zealand is best known for providing a nurturing student life for all international students out there. Additionally, if you're an adventure junkie you're in for a treat!
Scroll through to get a sneak peek of the student life in New Zealand.
Accommodation
Student stays in New Zealand give you many options like the hall of residence, a rented stay with friends, or a homestay. Life in New Zealand will be the best when you choose a homestay or a hall of residence. This would allow you to meet new people and make friends.
When it comes to homestays, you can start living with a host family and enjoy the comfort of your room all for yourself. This way, you can Interact with your host family members, benefit from your stay, and learn the country's culture and life along the way.
A student-friendly environment
New Zealand' student-friendly environment makes life all the more easier. The count of students per class is usually less. Hence every individual student gets equal and personalized attention. This way, you can focus on the subject learning in-depth.
Apart from this, New Zealand has a specialized Student learning centre, a platform to discuss, debate, and seek help from the tutors about learning courses.
Transport
New Zealand's cities are pretty glorious. Daily commuting in the city can be done by bus, biking, or walking. You will find the excellent connectivity of bus networks in almost all towns. Cities like Auckland and Wellington have commuter rail and ferries.
There are also flights running around the country very often, which are affordable. So, you can make a list of travel plans to fly to the cities for your weekend getaways. Make sure to visit the exquisite beauty of Auckland, the alluring Christchurch, and the Artistic Wellington.
If driving and road trips are your ways to spend some time off, then explore around Hamilton, Tauranga, Lower Hutt, Dunedin, and Napier.
Code of Practice
New Zealand is the first government to adopt a Code of Practice that sets out its international students' care standards. As an international student, you are protected under this code.
The code of practice is a platform where you can discuss the institution's educational standards, financial dealings, and any sort of support and help if required. You can also seek help with issues related to accommodation and transport.
Cost of living
The cost of living is pretty affordable and economical in New Zealand. Make sure to keep a track of your everyday expenses, such as groceries, transport, and stay expenses, etc.
Enjoy new cuisines
New Zealand is a bliss for all food lovers! If you want to try some fresh and delicious foods, go on and try some sweet chocolate fish, pineapple lumps, the famous blue cheese, Maori Hangi, and roast lamb.
Part-time work
If the visa grants that you can work part-time while studying, this can be an excellent way to gain some work experience and earn a little extra money. It can also help you meet people.
Ensure that your visa policies allow you to work part-time. Don't get carried away with the work, and make sure you allocate time to study and enjoy your life in New Zealand.
Ready for some adventure?
Kiwis relish sports. Rugby, football, netball, kayaking, sailing, triathlons, and extreme sports are the most watched and played. Gyms are spread around most cities and on every campus, are affordable to the students.
Gather your friends and take a walk along the shores, or head down to Queenstown- the heart of sports activities such as skydiving and bungee jumping.
The unlock season is here, and so are winters! So go ahead, and explore the mixed platter of life in New Zealand that'll shoo away your study abroad blues. Connect with us today and let's get started!