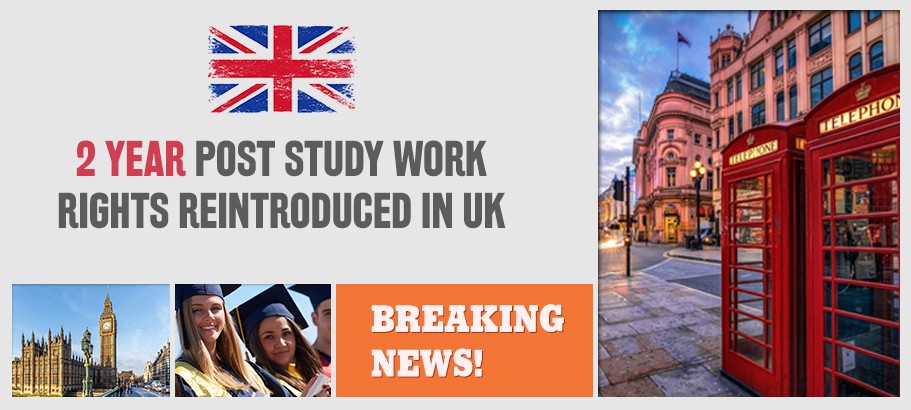 Are you aware of the latest policy changes which have happened in the UK Higher Education Sector?
If you are one of those passionate students who is inclined towards choosing UK as a study destination, we have some great news for you! The UK Government has announced the return of post-study work visa under which you'll be able to stay in the UK after graduating for 2 Years to work or search for a job.

You as an international student will now be able to look for work in any sector and at any level and will be able to switch into the skilled work route if you meet the requirements. Currently, graduates with bachelors or master's degrees are allowed to work for only four to six months. But from the upcoming 2020-21 intakes, all international graduates who have successfully completed a course in any subject at undergraduate level or higher would qualify to work for two years post their studies in the UK.

The return of this policy is reintroduced by British Prime Minister, Boris Johnson to boost international student enrolments and to attract the best talent from around the world to British Universities. The announcement is greeted and welcomed with enthusiasm by 130 institutions and universities in UK.

This scheme which was scrapped in 2012 by former British prime minister, Theresa May has been reintroduced realizing the important cultural and economic contribution international students make to the country. This policy change will not only help students to hold lifelong links with the UK, but also wide range of employers will now benefit from access to talented graduates from around the world.
Why Study in UK?
Now that you know about the ample work opportunities that can help you in shaping your career in UK, let's check out few other reasons why UK is one of the most attractive destination with more than 500,000 international students enrolling each year.

Choosing UK as a study destination is one-of-a-kind experience that offers high-quality of education and academic excellence. Their well-researched courses and devotion to education and performance will help you to excel in your area of expertise making you ready for a right job and higher salary according to your skill set. You as an international student will get a chance to gain a lot of cultural experience and values.
UK offers well-researched and diverse range of courses in world-class universities preparing students for the corporate world. Degrees and qualifications from UK higher education institutions are known around the world because of high-quality of education imparted to the students.
Undergraduate degrees in UK are of three to four years and a master's program is typically between one and two years, saving your time & living costs.
Institutions in UK offers various English language waivers and variety of scholarships* (Upto full tuition fee waiver), financial aid, grants and bursaries to the international students.
The Visa process is easier in UK and dependents are allowed to work full time with students (for Masters level & above)
International students are allowed to work for up to 20 hours a week during term time and full-time during holidays. They are also given various internship opportunities during their course of study at both UG and PG level.
*Conditions apply.

Interested to study in UK? AECC Global is your trusted consulting partner who will help you realize your dream of studying and working in the United Kingdom. Call us at 18005720022 for detailed info on trending courses, top universities, admission process and extended work rights in UK.

Source: The Guardian