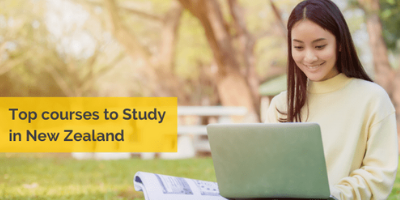 New Zealand is an independent and developed country providing an enriching study experience for international students who wish to study in New Zealand.
With an emphasis on hands-on experience and critical thinking, students can explore multiple facets of their capabilities using the resources provided in New Zealand. 
It is a safe country with a remarkable reputation for research and creativity. These factors make the country a captivating and welcoming destination for all international students from across the globe.
Why Study in New Zealand?
New Zealand has various higher education institutions like universities, colleges, private institutions, and polytechnics. There are eight universities in New Zealand ranked within the top 500 in the QS World University Ranking.
Strengthening its position among other international study destinations, New Zealand offers high quality and unique courses.
Can't decide to choose the best course to study in New Zealand?
We made it easier by narrowing down the top courses to study in New Zealand.
Scroll through to know which course best suits your interest.
Top courses to study in New Zealand
Animation
This is one of the most popular courses to study in New Zealand! There are several streams offered in this course. Those include Video and Sound Design, 3-D modeling, Illustration, Typography in Motion, etc.
Through these programs, students will acquire an advanced level of knowledge and skills in creative animation techniques and understand the principles and processes involved. The employability rate is higher in the streams of Animation courses.
Jobs involving Animation include,
3D Modeller
Flash Animator
Composing Artist
Storyboard Artist
Mathematical Modeller
Science
Choosing to Study science in New Zealand is an intelligent choice. The diverse branches of science will allow you to get a hands-on learning experience and practical thinking. The ground-breaking research methodologies adopted in science streams enable you to understand the different facets of learning.
Science would be an excellent choice for Indian students who have completed class 12 (in science). Graduates of this course get an opportunity to work with NZ's leading scientists in biochemistry, microbiology, molecular biology, immunology, etc.
Jobs involving science include:
Marine biologist
Food scientist
Environmental scientist
Geologist
Biotechnologist
Technology
Study Technology in New Zealand and prepare yourself for a booming future with expert teaching and globally-recognized qualifications. Your New Zealand study experience will give you an intellectual approach to a wide spectrum of use cases, from creating a robot to designing a software system.
Technology is the one domain that is driving the entire world. Being a part of this modern discipline, you'll expand your analytical skills. Working in teams with other students will also help you in creative thinking strategies and establish strong bonds with the Technological industries. 
Jobs involving technology include,
Software developer
Electronics engineer
Food technologist
Quantity surveyor
Web developer
Business Management
Business Management is the most chosen course by most of the international students to study in New Zealand. This course makes you confident enough to transform existing businesses or start your own with the practical skills you acquire during the course study.
Studying Business Management in New Zealand will guide you through the project work that you take up, establish a robust network with business leaders, and take part in internships, study tours, and business competitions.
Jobs involving business or management include:
Entrepreneur
Human resources advisor
Policy analyst
Public relations consultant
Project manager
Software Engineering
Engineering has always been and continues to be an ideal course among students. One of the main reasons is the specializations, which are frequently making it to the list of highest-paid professions.
These days, many universities across the world offer multiple streams of study in the Software Engineering discipline. But, New Zealand, with its ultra-modern training facilities, has taken the lead. Be it study benefits or career prospects, the Software Engineering options are worthwhile to study in New Zealand.
Jobs involving in Engineering include:
Systems analysis and designer
Information technology Manager
Database administrator
Communications Technology Specialist
Process Engineer
Agriculture
Study agriculture in a country that is a leader in agriculture and plays a pivotal role in agribusiness innovation. Agriculture is the backbone of New Zealand's economy. Students have immense opportunities to gain practical experiences on farms and research centers. 
Any student, who chooses to study Agriculture in New Zealand, gains experience and skills in areas like Agricultural marketing, Agro-based services industry and organizing dairy farms, and many more exciting options. 
Jobs involving agriculture and related subjects include:
Farm manager
Viticulturist
Horticulturist
Agricultural/horticultural scientist
Forestry manager
Digital Design
New Zealand offers unique opportunities to bring your creative ideas to life in the discipline of Digital Design. Who is not fascinated by films like Lord of the Rings and Avatar, etc.? Excelling in the field of Digital Design might allow you to connect with those industry leaders and the Oscar-winning filmmakers. 
By playing around in the digital design field, you can also showcase your astounding work in art galleries, theatres, and vibrant communities to expose your talent. This program will also help you gain a computer graphic design qualification, enabling a variety of employment opportunities in design and technology.
Jobs involving digital design include:
Animator
Visual effects artist
Game artist
Compositors
Mobile app designer
Fashion Design
Fashion is an in-demand career in today's world. And to be a part of such a competitive stream, one has to be creative enough to compete. By opting to study Fashion Designing in New Zealand, You'll be taught to explore your innovative design inputs practically, get internship opportunities, showcase your design frameworks at exhibitions, etc.
Jobs involving fashion or design include:
Fashion designer
Industrial designer
Costume designer
Textile designer
Professional Accounting:
With the ever-growing business globally, the demand for professional accounting courses is increasing day by day. The roles and responsibilities of an accountant have evolved into much more dynamic ones. Now, it's not just about financial reports; indeed, it has become an overarching profession. 
The Professional Accounting degree is a course that helps aspiring accounting professionals to acquire these particular skills. The degree in this course is highly valued as it provides ample growth in every field of work.
Career opportunities include,
Chartered Accountant
Tax specialist
Business Consultant
Management Accountant etc.
Apart from the above mentioned top study courses to study in New Zealand; you can also choose the below-mentioned courses that are also highly valued.
Medicine
Hospitality
Nursing
Trades
Health care
Sports management
With its friendly people and renowned universities, New Zealand has become a most sought-after destination for education and livelihood. The cost of pursuing the courses is also comparatively low and affordable in New Zealand than in many other countries. 
So, go ahead and opt for the right course based on your preference from the top courses to study in New Zealand listed above.