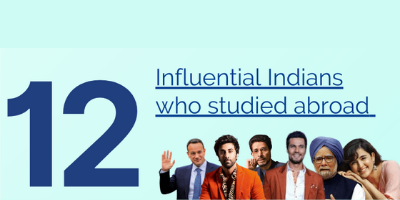 Education is of paramount importance to any profession, and choosing the right University is essential.
Choosing to study abroad is a huge decision, and it opens you to a future of opportunities while ensuring a successful career.  
Studying abroad is an incredible opportunity for Indian students to be a part of the competitive global community.
As an international student, you will be exposed to a new cultural environment, learn new skills, and experience the best education from world-class universities. 
Indian employers are far more impressed with an international degree than an Indian Bachelor's or master's degree. Graduating from an International university allows you to enter into the global job market and increases your chances of settling in your chosen country.
As students, you might have a few people you look up to as an inspiration in your life and career. We have listed below some of the most popular and successful Indians who have reached great heights by studying abroad.
Anil Ambani
Named 'Businessman of the year'  twice and 'The Entrepreneur of the Decade,' Anil Ambani amazed the Business world with his impeccable business mind and strong business development skills. Operating in over 20,000 towns and 4,50,000 villages in India and abroad, Ambani's company Reliance touches many Indians' lives every day. 
He aspired to study Science at the University of Mumbai and successfully got his Bachelor's degree. Anil later went to the USA for his Masters in Business Administration at The Wharton School, University of Pennsylvania.
Indra Nooyi
Rome wasn't built in a day! There's a long story about an Indian woman who pursued her higher education in the United States and became one of the world's most powerful women. Yes, we are talking about Indra Nooyi, the woman ranked as one of 'The World's 100 Most Powerful Women' by Forbes Magazine.
From 2006 to 2010, Fortune magazine recognized Indra Nooyi's efforts and gave her the No.1 position on its annual ranking of 'Most Powerful Women' in business. The President of India awarded her the prestigious Padma Bhushan in 2007. 
Indra Nooyi went to the Indian Institute of Management in Calcutta for her MBA, then to Yale University for her MA in public and private management. 
Dr. Manmohan Singh 
The two-term Prime Minister of India and a recipient of the 'Padma Vibhushan' Dr. Manmohan Singh were listed among the 'top 100 influential people in the world' by Time Magazine.
He enrolled at the Panjab University, where he earned his bachelor's and Master's degree in economics. He joined the University of Cambridge and graduated with honors. In 1962, he made his D.Phil. in economics from 'Nuffield College, University of Oxford.'
Shashi Tharoor 
Known for his rich vocabulary and realistic thoughts, Shashi Tharoor comes across as a fascinating personality, popular amongst individuals of all ages. He is an active member of the Indian Parliament, an author, human rights activist, and columnist. 
He served in the UN for 29 years and wrote for newspapers, like The Times of India, New York Times, Washington Post, The Hindu, and many more. He graduated from Tufts University's Fletcher School of law and Diplomacy, earning his MA, MALD, and Ph.D.
Vir Sanghvi 
News, culture, politics, travel, analysis, food, entertainment, trending topics, and whatnot? Vir Sanghvi is an individual who speaks his mind out about almost everything. He is a very popular journalist, author, and food critic. He was appointed as the editor of Bombay Magazine. Vir is the youngest editor in the history of Indian Journalism. 
He was educated at Mayo College Mill Hill School, London, and studied politics, philosophy, and economics at Brasenose College, Oxford.
Madhu Trehan   
Madhu Trehan is an expert journalist and writer. She is the founding editor of the news magazine 'India Today.' She is also the co-founder and editor-in-chief of 'Newslaundry.' She is very popularly known for producing the video news magazine 'Newstrack' - India's first video news magazine.
She has also authored the book 'Prism Me a Lie Tell Me A Truth' and 'Tehelka As Metaphor.'
Madhu graduated from Columbia University in New York with a Master's degree in Journalism. 
Ranbir Kapoor     
The Winner of 6 Filmfare awards and the star of 'Wake up Sid,' Ranbir Kapoor is the heartthrob of every Indian girl and a trendsetter in Indian Cinema. He's one of the most versatile and successful Indian actors in Bollywood and has proven time and again that he is a 'rockstar' with limitless talent.
Ranbir graduated from the School of Visual Arts, New York, with a degree in film-making and acting from the Lee Strasberg Theatre & Film Institute, New York.
Amartya Sen   
The Winner of the Nobel Prize in Economic Sciences, the Adam Smith Prize, and Bharat Rathna, Amartya Sen, has contributed massively to economics.  Amartya Sen is an award-winning economist, writer, and philosopher.
He was appointed as the Professor and Head of the Economics Department at the Jadavpur University, Calcutta, at 23.
He attended Trinity College, Cambridge, where he earned his B.A in Economics. He completed his Ph.D. at Cambridge University.
Satya Nadella     
As Microsoft's CEO, Satya Nadella is regarded as one of the most powerful Indian-born tech executives worldwide and is a great pride.
Nadella's most significant accomplishments were pioneering the 'Cloud computing' division of 'Microsoft.' The turnover from this particular division was $16.6 Billion in 2011 when he was appointed as head.
Within three years, the turnover saw an increase to around $20.6 Billion. He is an alumnus of the reputed 'University of Wisconsin-Milwaukee' located in the United States, where he pursued his 'Masters of Science' (M.S) degree.
Rohinton Mistry 
Rohinton Mistry is a world-renowned Canadian-Indian writer widely known for his poignant, stark, and humorous writing style. He is a recipient of the commonwealth writers' prize in 1992 and 1996.
He graduated from Toronto university with a bachelor's in English and Philosophy.
Urjit Patel 
Urjit Patel is an Indian economist. He served as the 24th Governor of the Reserve Bank of India (RBI). Before becoming the governor of RBI, Mr.Patel served as the deputy governor for three years. 
He studied at the London School of Economics and was awarded a Bachelor of Science in economics from London's University. He later earned his Master's in Philosophy with economics from Linacre College, Oxford. He earned his doctorate in economics from the well-known Yale University in 1990.                                              
Nabaneeta Dev Sen 
Nabaneeta Dev Sen was a Bengali poet, a prolific writer, a feminist thinker, and a scholar known for her unique expression of thoughts and lucid writing style. She was awarded the prestigious Padma Shri award for her outstanding work writing beautiful articles in English and Bengali. 
She went to the US and obtained an MA in Comparative literature with distinction from Harvard University. She then joined Indiana University and received her Ph.D. in Comparative Literature. 
All these incredibly successful Indians decided to pursue their education abroad, which has positively impacted their career and led them in the right direction. Studying abroad exposes you to grow as an individual and professional and help build a meaningful network with people worldwide and develop various skills.AECC Global provides you with services that will guide you through this incredible process. Connect with us and get started on your study abroad journey.
You never know. You could be the next big celebrity! Wishing you all the luck!