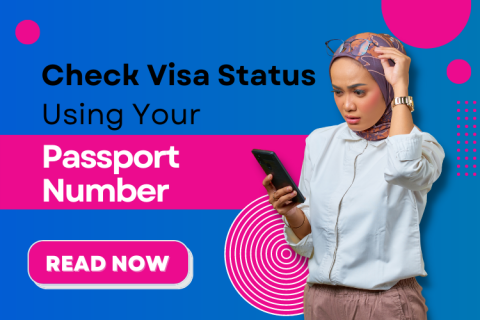 A valid visa is mandatory to travel overseas. However, a handful of countries do offer 'On-Arrival visa' depending on the friendly diplomatic ties with the passengers' origin country. However, most countries require a valid visa to enter and travel through the country.
But, how do you check visa status?
Can you check my visa status online?
Is your passport number sufficient enough to check your visa status online?
These are just some of the most common questions we get when it comes to visa inquiries. We crack all these answers for you in our blog. Keep reading to know the answers!
In today's blog we answer the following questions:
How to check visa status online?
How to check visa status with a passport?
What is a visa Reference number and where to find it?
How to check US visa status with a passport number?
How to check UAE visa status online?
What are the details of visa Labels?
How to check New Zealand visa status with a passport number?
How to check your Australia visa status online?
1. How Do I Check My Visa Status Online?
The most reliable way to check visa status online is through the consulate website. There are two essential pieces of information required for this process: Your application ID and your passport number.
Step-By-Step Guide On How To Check Your Visa Status Online:
"Go to the official visa website of the country you are applying to"
Find the option to track the status of visa applications
Enter details like your Passport Number/ Acknowledgement Number and Date of Birth
Complete the captcha code and then click on submit
Your visa status will then display on the screen
If you go online to check the status of your visa application, chances are you will get multiple third-party websites offering this service to you. However, there is a mandatory registration required on all these websites. This registration process requires additional information like your email ID, date of birth, and multiple other details. After you have filled in all the required details, it will present you with the Live status of your visa application.
On the other hand, Consulate websites are simple and easy to navigate. You simply need to fill in your visa application ID or reference number along with your passport number to get the current status of your visa application.
2. How To Check Visa Status With Passport Number?
If you have missed your visa Application ID/Reference number, it becomes a little tricky to check your visa status. If you are in a similar situation, do not panic!
You can still get an update on your visa application through your passport number.
Travel agencies, Visa Facilitation Service Agency, or Third-party websites are three go-to stops that provide visa application updates. The good thing about them is that they do not require your visa application ID as a mandate.
However, your passport number is critical in all cases. The Travel Agency and Visa Facilitation Service Agency will only be able to check the status of your application via your passport number.
In the case of third-party websites, they require a few additional information along with passport numbers as primary information. After you provide them with all this information, they can send you to live updates of your visa application.
3. What Is A Visa Reference Number And Where To Find It?
The Visa Reference number is a number generated along with your visa application form. You can find your visa reference number in the invoice receipt of your application. It becomes essential to save this invoice receipt if you have applied for your visa application offline.
4. How To Check Us Visa Status With A Passport Number?
There are two ways of checking your visa application status for the US. One is by contacting the National Visa Center by phone, at 1-603-334-0700 (Immigrant visa) and 1-603-334-0888 (Non-Immigrant visa).
Apart from this option, you can also check the status of your US visa application online at the Consular Electronic Application Center.
Fun Fact: Did you know the United States of America has a visa Waiver Program (VMP)?
VMP enables most citizens or nationals of the participating 39 countries to travel for leisure or business for 90 days or less without obtaining a visa.
You can check the list of the countries participating in VMP here,
visa Waiver Program (state.gov)
5. How To Check UAE Visa Status Online?
6. How To Check New Zealand Visa Status Online?
If you have applied for a New Zealand visa online, you are requested to set up an account on the official New Zealand visa website- New Zealand visas | Immigration New Zealand. This online registration will provide you login access to your visa application progress. You will also need to provide additional information like the type of your visa category to ensure it gives you the correct information about your visa status.
And, if you have applied for a New Zealand visa offline, then the consulate will notify you about the exact visa processing time. In case you do not get the update in the mentioned time frame, you can contact the consulate about the status of your visa application.
Fun Fact: Did you know you can check your New Zealand visa conditions online through a government app called Realme?
New Zealand visa Applicants can create a Realme account and check out their respective visa conditions on this NZ government-authorized app. This app can be handy to get quick updates about your NZ visa validity and other critical visa conditions at the ease of your phone.
7. How To Check Your Australia Visa Status Online?
Australia has a dedicated online visa platform- The Visa Entitlement Verification Online system (VEVO) where you can see your visa details and visa conditions easily. They also have a VEVO app where users can find every update regarding their Australian visa.
Fun Fact: 5 Travel documents accepted by VEVO:-
A passport
An ImmiCard
A convention travel document – also known as a Titre de Voyage
A document for travel to Australia (DFTTA)
A PLO56 evidence card
You can learn more about the Australian visa process in our blog here,
How to check Australia visa status online? - Blog (aeccglobal.com.au)
8. What Are The Details Of Your Visa Labels?
Once you get your visa application approved you must check the visa labels and stickers attached to your passport by the Home Office.
The details on your visa labels are as follows:
visa Name: The specific name of the visa you hold
visa Expiry: The validity of your visa
visa Date Expiry: The last date you can enter the country.
Number of Entries: The number of re-entries you are allowed while holding this visa
visa Conditions: Each visa category clearly defines the conditions of your travel that are mentioned on the label of your visa.
Frequently Asked Questions
1. How Long Does It Take For A Visa Application To Be Processed?
The visa application process time differs depending on the country, type of visa, and also on the applicant's nationality. It is always useful to check with the consulate about the visa processing time for your visa application category.
2. Can I Take A Job Or Work If I Hold A Study Visa?
Most countries allow students to take up part-time and full-time job roles whilst on a student visa, though this is not the case every time. Every country has specific work conditions on student visas. It is best to check country-specific visa conditions for students.
3. Is The Visa Application Fee Refunded If The Application Is Rejected?

Unfortunately, visa fees are non-refundable. So, if your application has been rejected, it could be due to insufficiencies and the fees won't be refunded. You need to re-apply with all the necessary steps including paying a valid fee for your visa application.
4. Can The Status Of The Visa Application Be Checked?
Yes, the status of your visa application can be checked once you have successfully submitted your application. You can either check them online by going to the consulate website or even check them telephonically. If you have submitted your name and phone number to get the visa status update, you will receive step-by-step updates on your application.
5. Do The Authorities Provide Periodical Updates On Visa Status?
Yes, the authorities do provide periodic updates on your visa status. However, they contain only important information about the application.
You can also speak to our award-winning counselors at AECC Global who can help you with the process of studying in Melbourne, Australia. Rest assured, a successful visa application would put you on the right path to pursue your studies abroad.
For more information feel free to check out our YouTube and Podcast channels.
Also, visit our free premium tool AECC Course Search and explore over 170,000 courses from around the world!