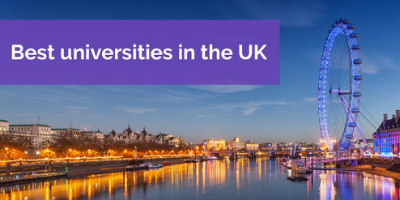 Ever wondered why the United Kingdom has been the most preferred study destination for most international students?
Well, there's one too many reasons why For starters, the UK has held its reputation for academic excellence at top-notch universities for decades. The high tech educational infrastructure, distinguished teaching methodology, excellent research capabilities and the diverse culture simply adds to the fact that the UK is one of the obvious choices when someone is considering studying abroad. 
There are hundreds of universities in the UK, so it can be difficult to choose one which caters to your needs. But don't worry, we have compiled a list of 7 of the best universities in the UK which could soon be your second home. 
University of Bristol
Having had a reputation for innovation since its founding in 1876, this university is known worldwide for its excellent research capabilities. Through their research, they tackle some of the world's most pressing issues in areas as diverse as infection and immunity, human rights, climate change, and cryptography and information security. 
It is a great choice for students since it has been ranked 91 globally in the Times Higher Education 2021 rankings. What's more? The university is located in the beautiful city of Bristol where there are plenty of activities for students to do in their free time. The university is easily accessible where the students can either take a ferry, bus, cycle or just go for a brisk walk to get there. 
Queen Mary, University of London
Ranked 110 globally by THE Rankings 2021, the Queen Mary University of London is an established university in London's vibrant East End committed to high-quality teaching and research. 39% of the students at this university hail from non-European countries ensuring a diverse mix of people from different backgrounds. 
It offers undergraduate, postgraduate taught programmes and postgraduate research degrees across the full disciplinary spectrum which means you are bound to find a wide variety of course options at this university. 
The university has launched a blended learning programme with the help of the latest bespoke technology so you can start your studies either online or at the campus. 
University of Sheffield:
Being a member of the Russell Group of leading UK research universities, the University of Sheffield is an excellent choice for international students. Their outstanding performance for excellent teaching and research, as part of a genuinely global community, is consistently confirmed by international independent assessments. Sheffield offers a world-class education in a vibrant and welcoming city in the heart of the UK.
University of York:
Located in Heslington, the campus has plenty of landmarks, sculptures, and college buildings to keep students occupied. The University of York was established in 1963, and currently has nine colleges and over 30 research centers and academic departments. This prestigious university has a wide range of courses to choose from and has been ranked 133rd in the Times Higher Education World University Rankings (2021).
Lancaster University:
Lancaster is ranked 3rd in the UK for graduate-level employment in the Complete University Guide 2021, with 89% of Lancaster students going into professional work or further education after graduation. This university has great career prospects for students and is also well known for its research capabilities. Being a member of the N8 Research Partnership - an association of the eight most research intensive universities in the North of England, it is one of just a few universities within the UK to have a collegiate system. 
Durham University:
Roughly around 21% of the students are of non-UK origin, making the environment at Durham really diverse. Durham alumni are well-known for their significant contribution in the areas of academia, business, journalism, government, arts, law, athletics, science, and several others. It is a public research university and is a part of the prestigious Russell Group. Here's a fun fact about this university - The estate is home to part of a UNESCO world heritage site (in recognition of Durham's historical and architectural importance). Additionally, a record of 19 Durham subjects are in the World Top 100 of the QS World University Rankings by Subject 2020, including 11 in the World Top 50.
University of Leeds:
The University of Leeds is among the Russell Group of research-intensive universities. It offers over 500 undergraduate and more than 200 postgraduate-degree courses. It is renowned globally for the quality of teaching and research. It is the fifth largest university in the UK and consistently ranks high in the global rankings. According to the results of the Research Excellence Framework ( REF), 80% of research at Leeds has a top quality rating of either "world leading" or "internationally excellent". 
The UK has a number of universities which are ranked highly worldwide and choosing the right university for the course of your choice can be a little tricky. Reach out to our counsellors and we can make this process a whole simpler for you! 
Our education experts are there for you in every step of the way right from the application process, scholarship information and more! Book an appointment right away and get started on your educational plans in the UK.