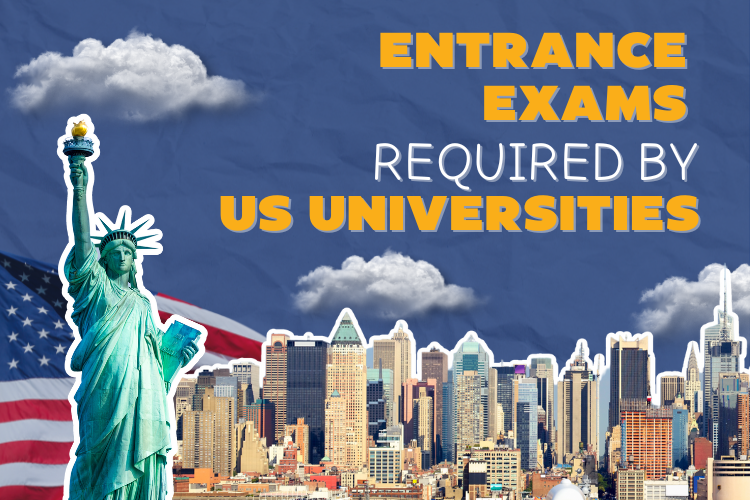 The United States of America has been a top study destination among international students for many decades. From the glamorous lifestyle to being home to several Fortune 500 companies, the United States of America has it all. To gain admission into a Bachelor's program in the USA, most educational institutions require students to take a few tests to confirm their intellectual and language abilities.
Most common are the IELTS (English language assessments), SAT/ACT (undergraduate academic assessment), and others. Below is the list of exams required to take before you start your application to study in the USA.
English Language Proficiency Test:
English language proficiency is a basic requirement for undergraduate study in the United States. You will need to take an English language test as part of your application if English isn't your native language.

> Starting with the International English Language Testing System- IELTS- is a widely recognized test that is accessible to students all over the world. The IELTS has four sections: listening, reading, writing, and speaking. The minimum score required on this exam varies by the university. Still, it is usually around a band score of six or higher. IELTS Test Report Forms are valid for two years.

> Test of English as a Foreign Language- TOEFL is another exam that tests your English language skills and lasts for two years, so you need to remember to keep them up to date.
> Pearson Test of English Academic- PTE
Some colleges also accept the Pearson Tests of English (PTE), so you should always check with each institution about their English language proficiency test requirement.
Other entrance exams include:
> Scholastic Assessment Test (SAT) and American College Test (ACT) for Undergraduate Students
SAT is a test that measures critical reading, writing, and mathematical abilities.
Like the SAT, the ACT is a multiple-choice assessment that tests reading, English, mathematics, and science, with an optional essay section. Both tests are widely accepted at accredited two and four-year colleges and universities in the United States.
> Law School Admission Testing Program or LSAT is a law school entrance exam that tests reading comprehension, logical reasoning, and analytical skills. The LSAT test will take you three and a half hours to complete. It comprises four multiple-choice sections and a writing task.
It tests your reading comprehension, reasoning, and analytical reasoning, and helps demonstrate your readiness for law school.
> Medical College Admission Test (MCAT) The test is administered by the Association of American Medical Colleges and aims to evaluate your critical thinking, problem-solving and existing knowledge of scientific concepts across Chemical and physical foundations of biological systems, Psychological, social and biological foundations of behavior, Biological and biochemical foundations of living systems, Critical analysis, and reasoning skills.
The better you do on these tests, the better your chances of being selected and gaining a scholarship. We wish you all the very best for your tests!
We hope we have answered most of your questions, if you would like to know more about studying in the USA or for further assistance with your application or international education journey feel free to contact our experienced counsellors.
Check out our YouTube and Podcast channels for more informative content!

Also, visit our free premium tool
AECC Course Search
and explore over 170,000 courses from around the world!